Who Can NuWoman Help and How?
NuWoman is designed to help you with your hormones, at any stage of life; from a young adult to a mother, to mature women. NuWoman is here for you.
The NuWoman brand has been successfully providing support to women locally and internationally to help balance their hormones for over twenty years. 
As we journey through the various stages of being a woman from late teens and the hormone joys that roller coaster brings, through to other events like starting a family, career, or both and beyond, your hormone journey alters too. 
We all have hormonal changes in our body from hormone imbalance, to stress, to menopause however they don't need to rule over you.
NuWoman BALANCE
just the right balance a young woman needs, from late teens through to your early 20's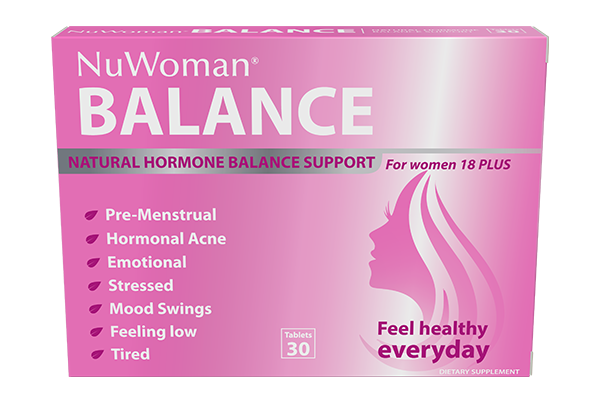 Who Can NuWoman BALANCE Help?
NuWoman BALANCE – just the right balance a young woman needs.
BALANCE is a convenient one tablet a day option for young women experiencing the ups and downs of life. Studying, late nights enjoying yourselves, working, managing friendships and all the treats we allow ourselves – junk food I'm looking at you! 
Hormone imbalance can occur at any stage of life however as young women, it can be put down to just wild hormones. While this is true, it can also be because of lifestyle choices or lifestyle necessities along with genetic & social influences causing an imbalance. 
Young women have a unique balancing act to manage. Work, study, social and home life all rolled into one; without even thinking what your hormones are doing at any time of every month.  It's not easy. 

How Can NuWoman BALANCE Help?
NuWoman BALANCE is designed for younger women experiencing life to the fullest who may be struggling with finding the right balance both inside and out. Life is tough trying to find that balance when you're trying to study or work or both and maintain your social life whether it's friends or relationships, that external balance can affect the internal balance too.

NuWoman BALANCE may help with the following:

Pre-menstrual

Hormonal Acne

Emotional

Stressed

Mood Swings

Feeling low

Tiredness
NuWoman BALANCE is a convenient one tablet a day for busy young women. 

NuWoman 30 PLUS
Support for you when life and its challenges overwhelm making you feel less like you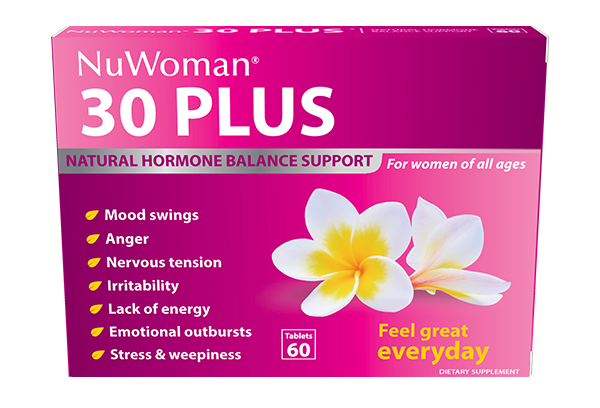 Who Can NuWoman 30 PLUS Help?
NuWoman 30 PLUS – supporting women throughout the years from their mid to late twenties right through to the perimenopausal years – where you feel less like yourself.
30 PLUS is designed for all ages but is especially good for women who are going through it all! You may have a career, or a family to take care of or both. You work so hard at whatever you put your mind to that your body and your hormones might be a little left behind.
NuWoman 30 PLUS is here to support you and your hormones, helping you remain the powerhouse of life that you are.
How Can NuWoman 30 PLUS Help?
NuWoman 30 PLUS is designed for women of all ages who need a helping hand with their hormones. Managing life and all it throws at you is difficult, especially when your hormones aren't playing nice. When your hormones are imbalanced, it's easier to sweat the small stuff and small inconveniences can seem much bigger. 
Some of the most noticeable signs of hormonal imbalance are:
Mood Swings
Anger
Nervous Tension
Irritability
Lack of Energy
Emotional Outbursts
Stress & Weepiness
Oestrogen dominance
NuWoman 30 PLUS works effectively because it works to bring your hormones back into their own unique balance without mimicking hormones or introducing hormones into your body. Its natural, ingredients that operate synergistically together have been scientifically researched and were in formulation for over 2 years to finesse 30 PLUS. It's now been successfully supporting generations of women for over 20 years both locally and internationally.
NuWoman Menopause + Bone
support for the transition through menopause and beyond, because life doesn't stop after menopause.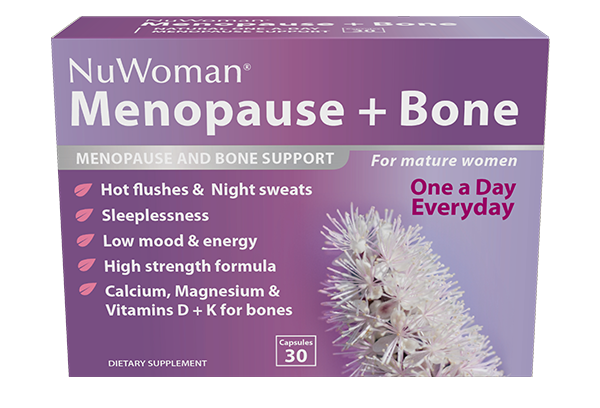 Who Can NuWoman Menopause + Bone Help?
Menopause + Bone is a great support for women at the menopausal stage of life. As we reach menopause, we can begin experiencing various changes to our bodies that we knew were coming but weren't sure on how they would come and the how best to manage. Menopause can be tricky to navigate, and you may benefit from a helping hand and so can your bones.
As women age, bone density can be affected by decreases in oestrogen production and this can affect your bone health. Changes in bone density can also lead to issues like osteoporosis. 
NuWoman Menopause + Bone Support One A Day, offers assistance for a smooth menopausal transition along with support for bone health to ease you through menopause and beyond.
How Can NuWoman Menopause + Bone Help?
NuWoman Menopause + Bone Support high strength One A Day capsules are designed specifically for women transitioning menopause, offering the unique support that your body needs at this stage for healthy menopausal transition.
Support for:
Hot Flushes

Night Sweats

Mental clarity, "brain fog"

Emotional balance

Assist normal balanced temperature

Relaxing sleep

Bone health
NuWoman Menopause + Bone Support offers you an effective natural plant and mineral based hormone-free supplement. This could be just the right support for you to balance things out and protect and support your bones during this important life stage and beyond. 
Feel cool, calm and collected.